[Character Information]
Name:
Gray
Age:
19
Gender:
Male
Birthday:
January 15th
Bloodtype:
AB
Height:
6'0'',
Weight:
164 Ibs
Appearance:
This is a pic of Gray using his Ice Make technique: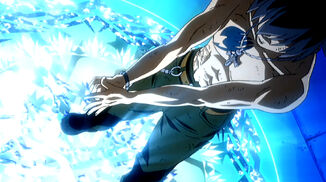 Personality:
Gray has a laid back personality, but he will often get serious when the time calls for it. Gray was quite obstinate and reckless when he was younger. Overtime, he has attained a more cautious attitude towards life and deals with problems carefully. He is really concerned about his comrades and is truly loyal towards them. Gray tends to trash talk every now and then, and often has the last sentence at the end of any argument. Also, he has a disturbing habit of unconsciously removing his clothes at inappropriate moments.
Likes:
Ramen, girls, fighting, and testing himself to the limit.
Dislikes:
Cocky, arrogant people, and The lack of justice in the world.
Best Traits:
He can fight, stands up for others, and has a strong will.
Worst Traits:
He too can be arrogant, and his mood affects his judgement quite frequently.
Favorite Food:
Ramen.
Favorite Phrase:
"Stand up for what's right, even if you stand alone."
Hobbies:
Unconciously Undressing.
Family:
None.
History:
Filling in as RP progresses.
Dreams/Goals:
To change the world.
[Combat Information]
Rank:
Former Akatsuki Leader, now an S-Rank Criminal that is considered among the most dangerous.
Village/Country Affiliation:
He's affiliated with no one.
Teammates:
N/A yet.
Weapons:
He has a highly condensed bone scythe that weighs one thousand pounds, but it virtually weightless to Gray himself. Gray can swing this bone scythe extremly fast which is what makes this weapon so deadly. One last abolity this weapon has, it a technique known as Wendeka-Kenkai. It's the combination of Gray's black and red chakra, mixed with his fire element. Gray can make his scythes blade be fuled with these two combinations, then release large concentrated blasts of red and black fire. (Only in the Jagon State)
Combat Strengths:
Fast, Smart, and quick with jutsu casting.
Combat Weaknesses:
Not good with Medical jutsu, genjutsu, or fuinjutsu.
Techniques:
The hell is this? xD
Elements:
Fire, Water, Lightning.
Main
:Fire
Sub
:Water, Lightning.
[Basic / Academy Jutsu]
[Basic Jutsu]
[Ninjutsu]
Spoiler: